CreditorWatch Collect is making it even easier for small and medium businesses to get paid and get paid fast. With the launch of our new payment portal, CreditorWatch Collect users can now seamlessly integrate 'pay now' buttons and payment links into email and SMS reminders.
A recent survey found that 45% of businesses view slow payment completion times as one of their main pain points. This is why we've partnered with payments experts Payrix to launch an online payment portal which can be integrated with both CreditorWatch Collect and Xero – making it easy for customers to pay and for businesses to reconcile. Available to all CreditorWatch Collect customers across Australasia, we've negotiated some sharp rates to further help CreditorWatch Collect users do business smarter.
Removing barriers and smoothing the path to prompt payment is not a simple equation. Some people and businesses will always pay on time. Others, not so much. Motivating slow payers can be difficult. It isn't just about sending gentle, frequent prompts to pay. It's also about removing barriers to paying in the moment. This is where CreditorWatch Collect's payment portal and integrated 'pay now' buttons come in.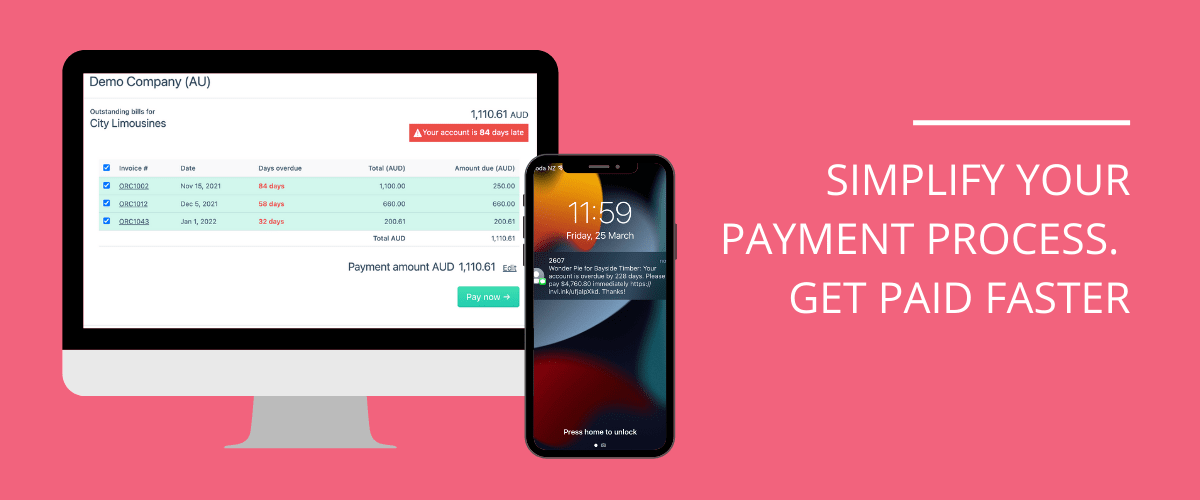 So how does it work?
Sign up to a merchant account with Payrix. The application takes around 10 minutes to complete and approval is usually within 48 hours (business days).
Take a couple of minutes to integrate your Payrix account with your CreditorWatch Collect account.
Add 'pay now' button to your email reminders and links to pay to SMS reminders.
Your customer receives the email or SMS with the pay now button.
Customer selects which invoices to pay and clicks pay.
Customer is taking to online payment page to complete payment.
Seems simple? That's because it is. Simple for CreditorWatch Collect users to set up. Simple for customers to pay your invoices.
Get the ball rolling today with all the info you need to apply here, or learn more by booking a live demo to see the payments portal in action.
NEW: CreditorWatch Collect launches payment portal
was last modified:
February 28th, 2023
by